When it comes to upgrading your driveway, decorative concrete offers a wide range of options that can transform the appearance and functionality of your property's entrance. Whether you're looking to enhance curb appeal, increase traction, or simply add a touch of style to your home, decorative concrete has you covered. In this comprehensive guide, we will explore various types of decorative concrete finishes that are perfect for driveways, including exposed aggregate, stamped concrete, colored concrete, and textured concrete.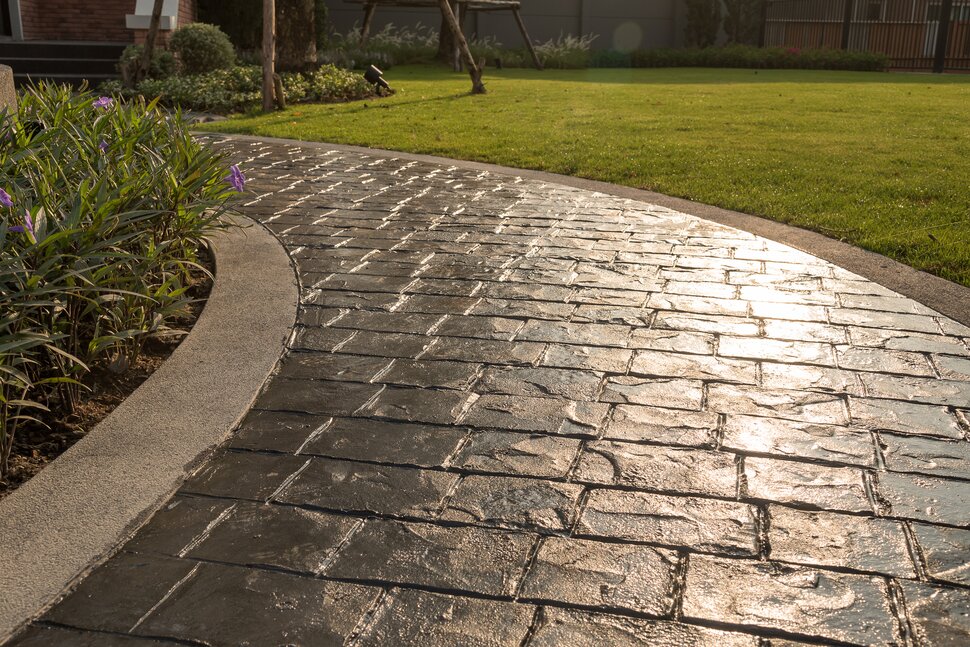 Exposed Aggregate: Adding Texture and Style
Exposed aggregate is a captivating type of decorative concrete finish that showcases the natural beauty of stone pebbles within a concrete mixture. This finish not only adds a unique texture but also enhances the non-slip properties of the surface, making it an excellent choice for areas with high rainfall or pool surrounds. Exposed aggregate comes in various styles, allowing you to customize your driveway to your liking.
One of the key advantages of an exposed aggregate finish is its ability to increase traction, which is particularly crucial in wet areas. Whether you're strolling by the poolside or navigating your driveway during a rainstorm, you can rely on the non-slip surface provided by exposed aggregate. Additionally, this finish can significantly boost your property's curb appeal and increase its overall value.
Stamped Concrete: The Illusion of Stone
Stamped concrete is a decorative technique that creates the illusion of individual stones or pavers on a continuous concrete surface. It's designed to resemble materials such as brick, stone, and marble, providing a sophisticated and stylish appearance for your driveway. This technique is applied to the concrete before it cures, resulting in a visually appealing and durable finish.
Before applying a stamped overlay to your existing driveway, it's essential to assess the condition of the current concrete. The quality of the overlay depends on the condition of the base, which should be clean and free from structural damage. Removing any loose materials ensures proper adhesion of the overlay.
Stamped concrete is not only an excellent choice for driveways but also for patios, alfresco areas, and sidewalks. It offers the aesthetic appeal of natural stone without the hefty price tag, making it a cost-effective way to enhance your property's appearance and structural integrity.
Colored Concrete: Aesthetic Versatility
Colored concrete allows homeowners to accentuate their concrete areas while harmonizing with the rest of their property. It comes in a wide array of hues and finishes, making it suitable for both modern and traditional homes. This decorative option has been in use for over a century and is known for creating unique designs and breaking up large, paved areas for aesthetic purposes.
Choosing the right color for your concrete can be challenging due to the vast selection available. To make the best choice, consider your property's existing color scheme, including the roof color and exterior paint shade. Seeking the opinion of a professional can also be invaluable, particularly for larger renovation projects.
Colored concrete is available in three forms: powder, liquid, and granular, providing flexibility in application and design. With its ability to seamlessly integrate with your property's aesthetics, colored concrete is an excellent choice for those looking to make a visual statement with their driveway.
Textured Concrete: The Intersection of Functionality and Creativity
Textured concrete offers a versatile solution for driveways that require a unique and visually appealing finish. Unlike other concrete finishes, which imitate the appearance of natural materials, textured concrete can mimic various surfaces, including wood, stone, and slate. This flexibility allows homeowners to explore creative design options that suit their preferences.
One of the most popular textured concrete finishes is exposed aggregate. Achieved by removing the top layer of cement paste, this technique reveals decorative aggregates like seashells and colored glass. You can choose between a medium or coarse texture, depending on your desired aesthetic.
One of the notable advantages of textured concrete is its ease of installation. It requires fewer workers and can be ready for use within a few days. Additionally, textured concrete offers enhanced safety features, thanks to its non-slip surface. However, it's essential to reseal textured concrete every two years to maintain its appearance and prevent chipping.
In conclusion, decorative concrete offers a plethora of options to enhance your driveway's aesthetics and functionality. Whether you prefer the natural charm of exposed aggregate, the sophistication of stamped concrete, the versatility of colored concrete, or the creativity of textured concrete, there's a perfect choice for your project. So, why wait? Begin the journey of designing and discovering your dream driveway today. Our team of professional concreters takes pride in delivering the highest standard of concreting finishes at competitive prices. With a track record of serving Northern Beaches suburbs with proven results, take the first step towards creating the concrete area you need by contacting us for a free quotation.