When it comes to home improvement projects, garage conversions are increasingly popular among homeowners looking to maximize living space and enhance property value. Converting a garage into a functional living area offers numerous benefits that go beyond merely adding more square footage to your home. In this article, we'll delve into the many advantages of garage conversions and explain why they are regarded as smart investments in the realms of real estate and home improvement. These transformations have the potential to redefine how we use our homes, providing a versatile canvas for various possibilities that not only improve our daily lives but also contribute to lasting value in the ever-changing landscape of property ownership.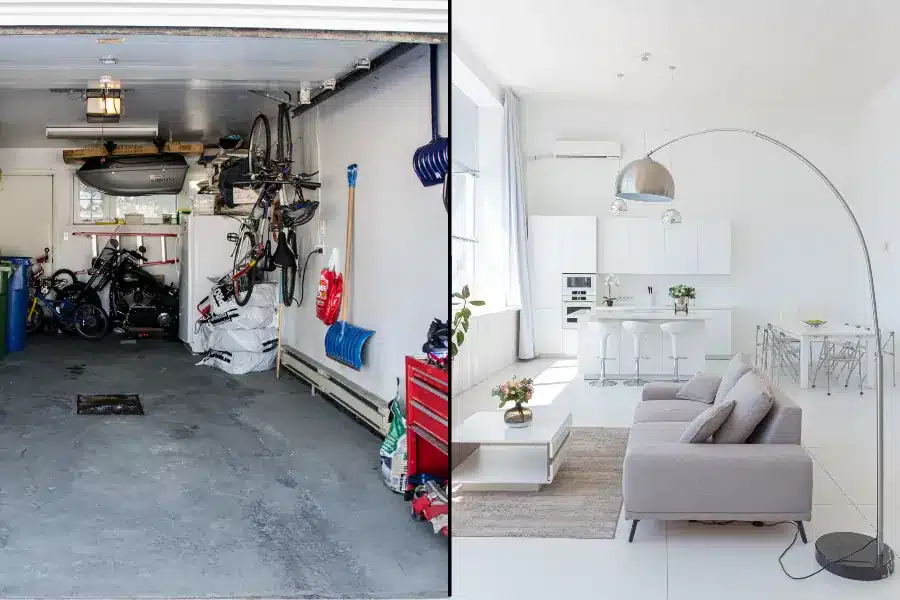 Cost-Effective Expansion
One of the most significant advantages of garage conversions is their cost-effectiveness compared to other home expansion options. Converting an existing space is generally more budget-friendly than building a new addition. The basic structure and foundation of the garage are already in place, reducing construction costs significantly. This affordability makes garage conversions an attractive option for homeowners looking to expand without breaking the bank.
Increased Living Space
The primary motivation for most garage conversions is the creation of additional living space. Whether you need an extra bedroom, a home office, a guest suite, or a playroom for your children, a converted garage can provide the functional space you require. This added square footage can enhance your daily living experience and accommodate changing family needs.
Enhanced Property Value
Garage conversions can substantially increase the overall value of your property. By converting an underutilized garage into a habitable space, you effectively boost your home's market value. Potential buyers often view a well-executed garage conversion as a valuable feature, which can lead to a higher selling price and a competitive edge in the real estate market.
Improved Energy Efficiency
Garages are typically not as well-insulated as the main living areas of a home. When you convert a garage, you have the opportunity to improve insulation, install energy-efficient windows, and upgrade the HVAC system. These enhancements can lead to lower utility bills, making your home more environmentally friendly and cost-effective in the long run.
Adaptable Functionality
One of the great advantages of garage conversions is their versatility. You can tailor the converted space to meet your specific needs and preferences. Whether you choose to create a cozy family room, a stylish home gym, or a tranquil home spa, the possibilities are virtually endless. This adaptability allows you to design a space that aligns perfectly with your lifestyle.
Avoiding Parking Dilemmas
While converting a garage may mean losing parking space, it can help you avoid parking dilemmas altogether. Some homeowners find that their garages are used more for storage than for parking their vehicles. By converting the garage into a functional living space, you can eliminate the need to shuffle vehicles around and free up space for alternative parking solutions, such as a carport or driveway expansion.
Increased Curb Appeal
Garage conversions, when done correctly, can enhance your home's curb appeal. Instead of a standard garage door, you can install windows or a stylish entryway that complements the overall aesthetic of your home. A well-designed conversion can blend seamlessly with the architecture, making your property more attractive from the street.
Potential Rental Income
If you're looking for ways to generate extra income, a garage conversion can be a lucrative option. You can transform the space into a self-contained rental unit, such as a guesthouse, an apartment, or an Airbnb. This additional income stream can help offset your mortgage or provide extra funds for other investments.
Meeting Zoning Requirements
Many areas have zoning regulations that require a certain number of parking spaces per residential unit. If your garage is no longer used for parking, you may need to seek approval or waivers from local authorities. Converting the garage into a living space can help you meet these requirements while simultaneously adding value to your property.
Personal Satisfaction
Beyond the financial benefits, garage conversions can offer personal satisfaction and a sense of accomplishment. Creating a space that meets your unique needs and design preferences can be incredibly rewarding. Whether you use it as a creative studio, a home theater, or a personal sanctuary, the converted garage becomes an extension of your lifestyle and personality.
Conclusion
Garage conversions stand as a powerhouse of advantages, rendering them an irresistible proposition for homeowners with a vision. From the pragmatic advantages of cost-effective expansion and heightened property value to the environmentally-conscious gains in energy efficiency and the unparalleled delight of tailoring a space precisely to your lifestyle, these transformations are a veritable treasure trove of benefits. Beyond the tangible returns, there's an intangible allure in shaping a domain to mirror your desires. So, if your aim is to amplify your living expenses and bestow enduring value upon your dwelling, the path of a garage conversion beckons as a shrewd choice, promising both immediate gratification and a tapestry of long-term rewards that will enrich your life and your property.